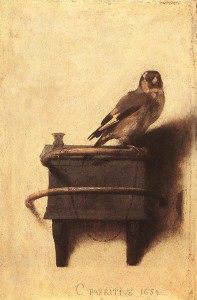 I've been telling anyone who loves books to read Donna Tartt's latest novel, one that took her eleven years to write, "The Goldfinch." I'm going to give it to my mom for Christmas because she's an artist and loves beautiful things. I couldn't stop listening to the story because of its twists and turns, its vivid use of language, and most of all, its narrator, Theo. As a reader and a writer, I found this book deeply satisfying and moving. At 771 pages, it's a big boy. But the story flew by for me. I didn't want it to end.
Tartt deals with a theme that has always fascinated me, and one that I explore in my own work: why do some of us stay stuck in grief over the loss of love?
Here's what the writer in me appreciated: Tartt's brilliant use all five senses in her descriptions. The way she builds layer upon layer of shrewd detail. Her deft scene setting, from Manhattan to Las Vegas to Amsterdam. Her keen depiction of characters with different economic class and backgrounds, from doormen to drug dealers, from Upper East Side matrons to failed actors. Her totally believable creation of two teenage boys on their own in a literal and metaphysical desert.
As a reader, I was caught up in the characters and willing to suspend my usual disbelief (though there are a couple of 'really?' moments). I love stories where the characters are sometimes acting stupidly and you find yourself saying, "No! Don't do that!" But I was so invested in Theo Decker, that I couldn't give up on him.
Thirteen-year-old Theo, in trouble at school, is scheduled to visit the headmaster with his mother (his father has abandoned them). His mother loves art and since they're early for the school appointment, she and Theo duck into the Metropolitan Museum of Art to view an exhibit of Flemish masters. In one shattering blast, Theo loses the only person who loved him unconditionally. Dazed and disoriented, Theo obeys the ravings of an old man dying in the bomb's wreckage and steals a small masterpiece. The painting is of a tiny bird tethered to a perch by a delicate gold chain.
That Theo possesses (or rather, thinks he possesses) "The Goldfinch" for so many years, hiding it so well that he won't let himself admire it, is the mystery at the heart of this immensely entertaining and moving meditation on the power of art and beauty over grief and guilt.
"The Goldfinch" is a modernist take on Dickens, with orphans, scoundrels, cruel and selfish fathers, kindly substitute father figures, rich families, greedy villains – even an innocent and unavailable heroine. But Tartt has updated Dickens by stripping her tale of any sentimentality.
Also, her protagonist is the antithesis of Dickens' David Copperfield. Theo is the Hero as Self-Medicated Male. In the aftermath of the museum bombing, he resists offers of therapeutic help offered by well-meaning adults. He doesn't want to "deal with" his grief – it keeps him connected to his dead mother. As he grows older, Theo consumes vast amounts of alcohol and opiates to deal with his never-ending post-traumatic stresses. Deep into the novel, we suddenly realize that Theo is an unreliable narrator. He has the same realization: the drugs he took as a teenager have erased a crucial moment from his memory, with terrible repercussions in his adult life.
"The Goldfinch" is a story of the illusions of memory and art. Theo makes a powerful case for the love and pursuit of beautiful things. A masterpiece can be reproduced in cheap prints and loved by many people through the ages. And Love can be kept alive in the face of Death. Theo concludes that "…as we rise from the organic and sink back ignominiously into the organic, it is a glory and a privilege to love what Death doesn't touch." He could be talking about the canvas-and-paint illusion of a fragile yellow prisoner chained to its perch. He could also be talking about his love for his mother. "The Goldfinch" was her favorite painting.
The small masterpiece actually exists, one of the few works to survive an explosion in the 1600s that killed the 32-year-old artist, Carel Fabritius. Theo's guilt for the theft of this masterpiece is as strong as his guilt and grief for his mother. Yet possessing such a beautiful work of art is the secret joy that lets him to keep his mother's memory alive. As Tartt quotes from Nietzsche, "we have art so that we may not perish by the truth."