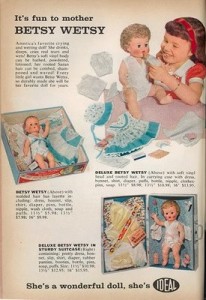 The only Bible story I cared for as a kid was the Nativity. Before there was grown-up Jesus, there was Baby Jesus and that baby, lying in a lowly manger, got some amazing presents. They weren't the kind of things I'd have chosen for a kid. (By the way, what happened to those gifts? Obviously, a little baby can't use what the Three Wise Men brought him. Did Mary and Joseph use the gold to buy a home in Nazareth? Did they re-gift the frankincense and myrhh?)
The Christmas story impressed me deeply, especially the part about the gifts. The ritual of adults giving presents to kids was a replay of giving homage to the miracle of birth. As a child, I never worried about my parents' frantic shopping anxieties over the holidays. I had steadfast faith that they would deliver the goods, because that's what adults were supposed to do.
One Christmas, I wanted a Betsy Wetsy doll and a toy oven. And lo, both of them appeared.
Betsy Wetsy's charm was her ability to pee. She came with a tiny bottle, which you filled with water and stuck in her mouth. The water dribbled through her plastic innards and came out through a discreet hole in the doll's labia-free genital area. Then you got the thrill of changing her teensy diapers. I didn't understand Betsy Wetsy's appeal until recently, when my 6-year-old niece entertained me with YouTube video cartoons of babies peeing in their bathwater. She laughed out loud at each video, and she must've shown me a dozen. Maybe, just as little boys are fixated on poop and farts, little girls have a subliminal fascination with pee.
The other toy I wanted and got was a miniature pink oven that came with wee boxes of cake mix and frosting. I woke up early the morning after Christmas and, while my parents slept, tore open all the tiny boxes of cake mix, made up the batter and stuck it in the toy oven. Since it's sole source of heat was a light bulb, the glob didn't cook well, or long enough, and the result was a half-baked mess. So I mixed up all the frosting and ate that from the bowl. When all the boxes of mix and frosting had been opened, I lost interest in the oven. The wanting trumped the having, as far as the oven was concerned. I'm sure it got banged up, scraped, streaked with crayons or whatever other substances we kids got hold of. The five of us were merciless with our toys. A dainty Victorian doll, meant to perch serenely on a shelf in a little girl's room, wouldn't stand a chance in our house. The Betsy Wetsy eventually lost her hair and head to several science experiments.
The golden years for getting toys are between the ages of four and eleven. That gives a kid eight full seasons of anticipation and excitement after each Thanksgiving. Eight years of perusing Sears and Monkey Ward catalogs. Eight years of raptly watching toy commercials on Saturday cartoon shows. Eight years of progressively more complex toys: baby dolls, fancy dolls, toy appliances, tricycles, games, puzzles, tinker toys, Lincoln logs, Legos and Erector sets, crafts, hula hoops, roller skates and the grand prize, a bike. Oh sure, you got sensible gifts from adults who don't live with you day to day and hear your incessant clamoring for toys. Those adults, your grandparents and aunts, don't know what you want and they don't have the obvious common sense to ask your parents. Those adults give you sweaters and slippers and nightgowns. But in your golden years of gift-getting, those adults are the exception, not the rule.
Until one Christmas, when you cross the invisible line into an uneasy territory called No-Toy-Land. Suddenly it becomes unseemly of you to ask Santa for toys. Your parents give you that gentle "oh really?" frown. They spout platitudes about how it's better to give than receive. From then on, ALL you get for Christmas is sweaters, slippers, nightgowns, and later, dresses and bath sets.
No-Toy-Land was the worst of two worlds: no more toys, but no real grown-up freedom, either. Instead, you're still using your training wheels for adulthood.
Today, when I shop for Christmas presents for my young grandsons, nieces and nephews, I remember those golden years of living in ToyLand, and I get a vicarious joy from trying to get them what I think they want (Thanks, Amazon wish list!).